Transforming Communications –
Studies in Cross-Media Research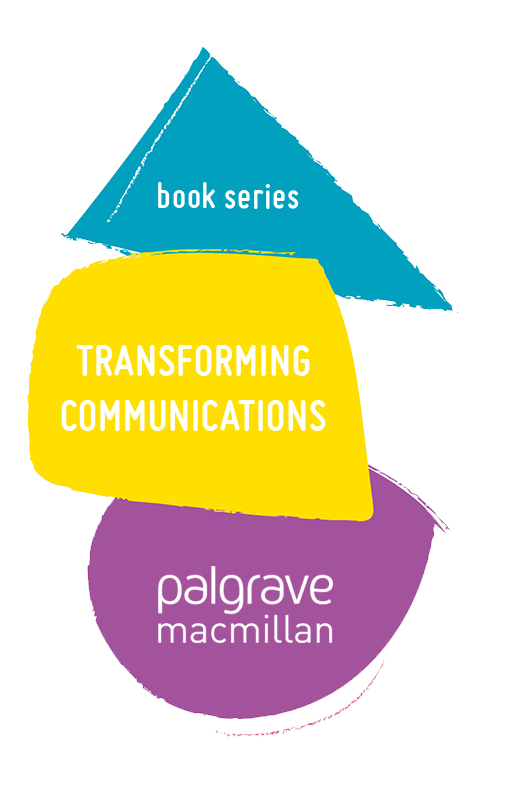 The book series 'Transforming Communications' is dedicated to cross-media communication research. It aims to support all kinds of research that are interested in processes of communication taking place across different kinds of media and that subsequently make media's transformative potential accessible. With this profile, the series addresses a wide range of different areas of study: media production, representation and appropriation as well as media technologies and their use, all from a current as well as a a historical perspective.
Series editors:
Uwe Hasebrink, Hans-Bredow-Institute/University of Hamburg
Andreas Hepp, ZeMKI, University of Bremen

We live in times that are characterized by a multiplicity of media: Traditional media like television, radio and newspapers remain important, but have all undergone fundamental change in the wake of digitalization. New media have been emerging with an increasing speed: Internet platforms, mobile media and the many different software-based communication media we are recently confronted with as 'apps'. This process is experiencing yet another boost from the ongoing and increasingly fast sequence of technological media innovations. In our modern social world, communication processes take place across a variety of media. As a consequence, we can no longer explain the influences of media by focusing on any one single medium, its content and possible effects. In order to explain how media changes are related to transformations in culture and society we have to take into account the cross-media character of communications. 
The series 'Transforming Communications' lends itself to different kinds of publication within a wide range of theoretical and methodological backgrounds. The idea is to stimulate academic engagement in cross-media issues by supporting the publication of rigorous scholarly work, text books, and thematically-focused volumes, whether theoretically or empirically oriented.
Each book undergoes a double blind review procedure: First, the submitted book proposal is reviewed by the series editors, at least two independent reviewers (board members or others), and the publishing house. Second, the full manuscript is reviewed by the same group of people.
Volume 1
Communicative Figurations
Transforming Communications in Times of Deep Mediatization
Editors: Andreas Hepp, Andreas Breiter, Uwe Hasebrink
This volume is about how to research the influence of our changing media environment. Today, there is not one single medium that is the driving force of change. With the spreading of various technical communication media such as mobile phone and internet platforms, we are confronted with a media manifold of deep mediatization. But how can we investigate its transformative capability? This book answers this question by taking a non-media-centric perspective, researching the various figurations of collectivities and organizations humans are involved in. The first part of the book outlines a fundamental understanding of the changing media environment of deep mediatization and its transformative capacity.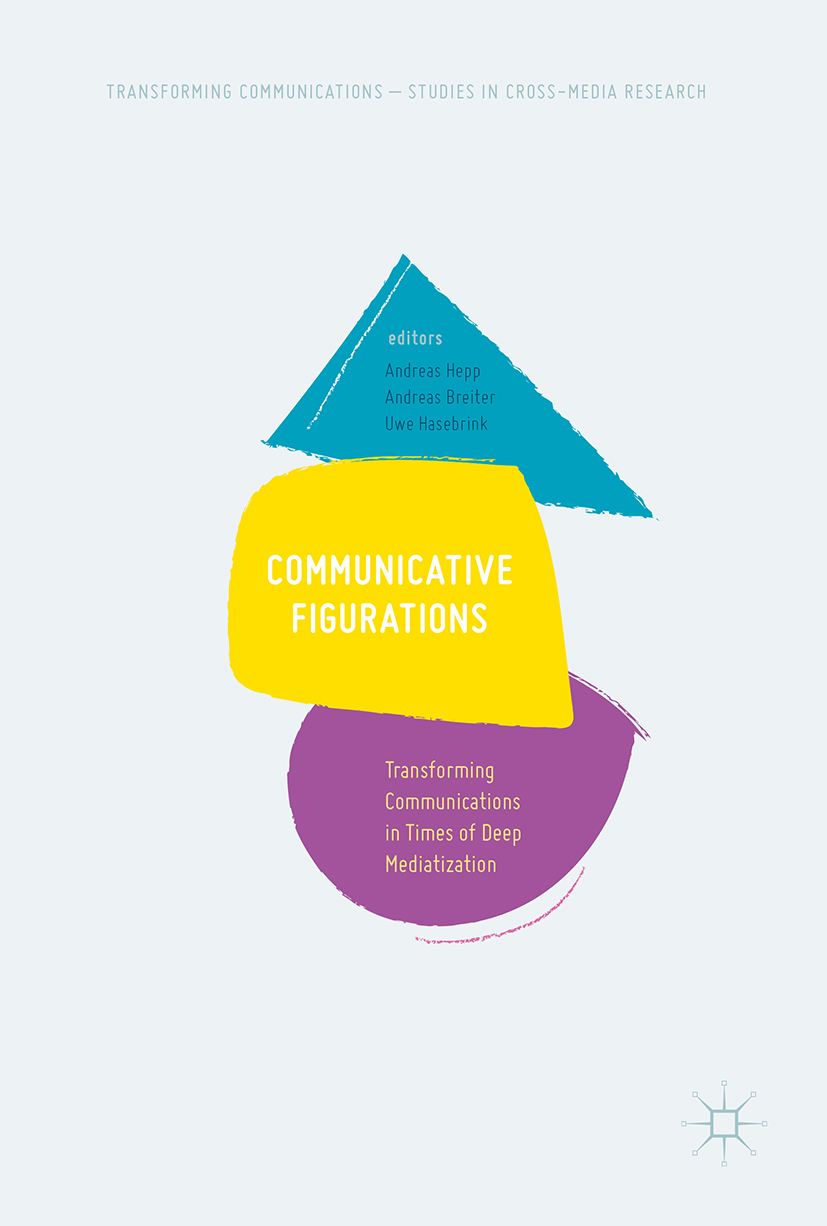 Volume 2
Dynamics Of Mediatization
Institutional Change and Everyday Transformations in a Digital Age
Editors: Olivier Driessens, Göran Bolin, Andreas Hepp, Stig Hjarvard
This volume sheds light on the underlying dynamics of mediatization, disentangling the actual unfolding of mediatization processes. The wide adoption and deep embedding of digital media and technology brings new questions to mediatization studies: how can we grasp this 'deep mediatization'? In which way should we develop existing approaches of mediatization to analyse such dynamics? What are the consequences of this for theorising and empirically studying mediatization?  By using these questions as a starting point, this book presents an innovative and original collection that is dedicated to both the underlying dynamics of mediatization and recent dynamics related to digital media.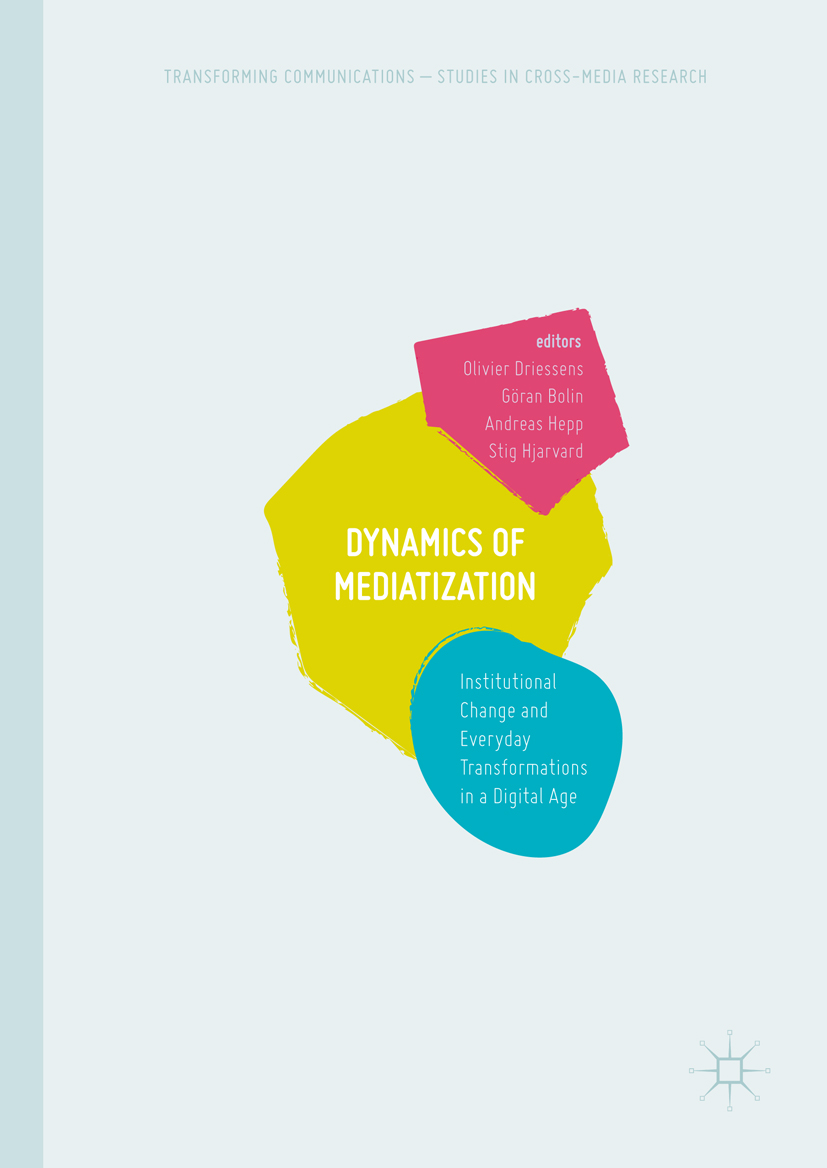 Volume 3
Media Logic(s) Revisited
Modelling the Interplay between Media Institutions, Media Technology and Societal Change
Editors: Caja Thimm, Mario Anastasiadis, Jessica Einspänner-Pflock
This volume provides new approaches to the concept of media logics – developed by Altheide and Snow – by drawing on theoretical and empirical perspectives from international scientists working in the field of communications, media, political science, and sociology. In an increasingly digitized and globalized world, powerful media structures and technologies influence our daily lives in many respects. It is not only mass media but 'poly media channels' that become more and more contextualized in everyday lives. Therefore, it is necessary to revisit the theory of media logics, which focuses on the strong intercorrelation of media technologies, media institutions and media power. Media Logic(s) Revisited attends to this by critically reflecting on the idea of media logic, a much needed input in light of current developments and strong cultural embedding of media in various social contexts.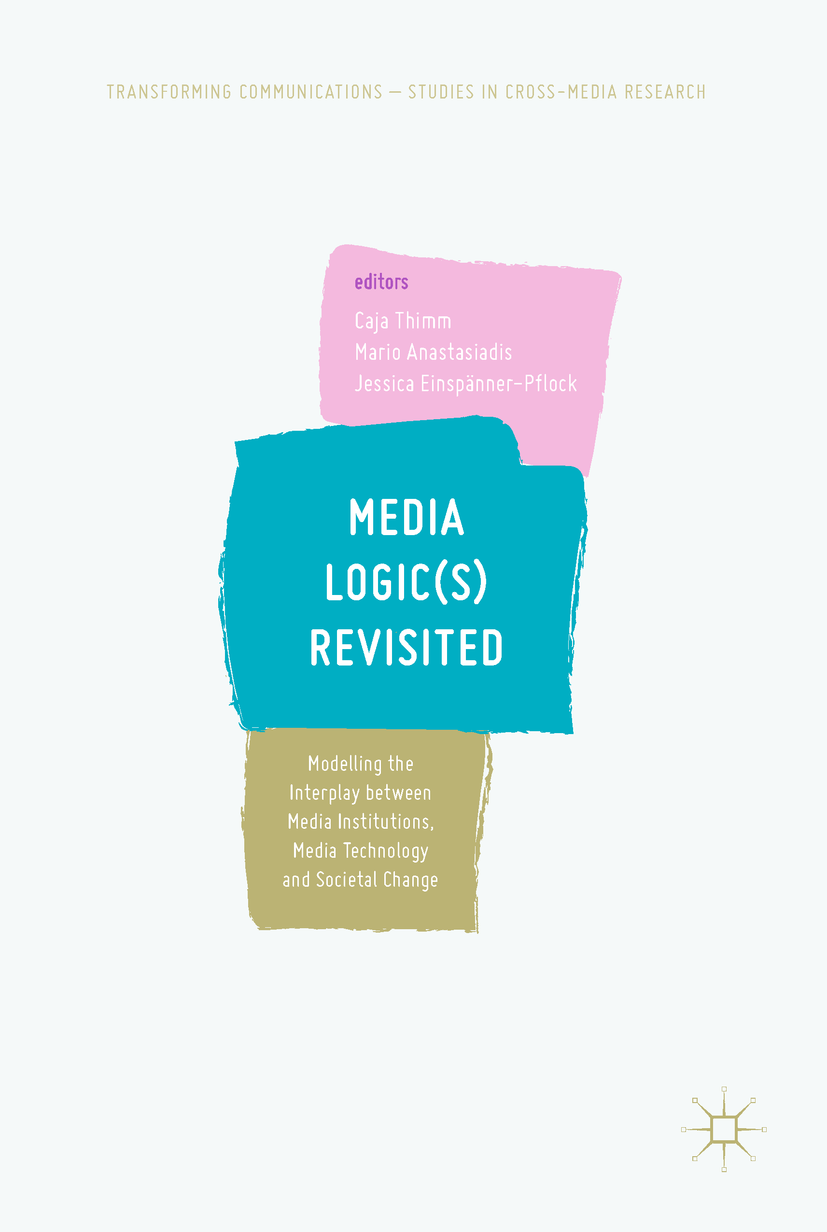 Volume 4
Social Inequality, Childhood and the Media
A Longitudinal Study of the Mediatization of Socialisation
Editors: Ingrid Paus-Hasebrink, Jasmin Kulterer, Philip Sinner
This open access book presents a qualitative longitudinal panel-study on child and adolescent socialisation in socially disadvantaged families. The study traces how children and their parents make sense of media within the context of their everyday life over twelve years (from 2005 to 2017) and provides a unique perspective on the role of different socialisation contexts, drawing on rich data from a broad range of qualitative methods. Using a theoretical framework and methodological approach that can be applied transnationally, it sheds light on the complex interplay of factors which shape children's socialisation and media usage in multiple ways.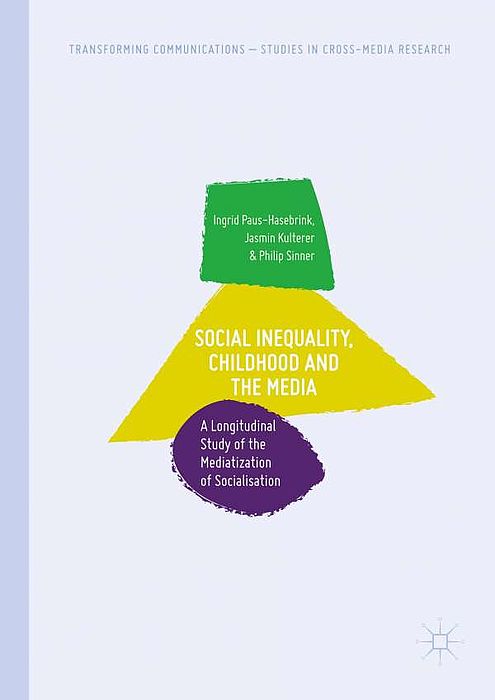 Volume 5
How We Use the Media
Strategies, Modes and Styles
Editors: Benjamin Krämer, Felix Frey
This volume considers strategies, modalities, and styles of media use and reception. Dynamic changes in media technology and infrastructure have spurred important changes in media use. Looking at these developments within the common conceptual framework of reception strategies, modes and styles of media use and reception, this volume is highly relevant against the background of the changing media environment. When it comes to media use and reception, communication research has mainly dealt with two much-cited questions: What do the media do with the people? What do the people do with the media? In comparison, the discipline has devoted less attention to how the media are used, the modalities, patterns or configurations of the actual practices of media use. The volume features original contributions, both empirical and theoretical, on the key concepts and approaches in the field, covering old and new media and different types of media content. Offering a comprehensive overview of existing research as well as promoting original findings and insights, the volume will be of interest to communication researchers, students, and scholars.  
Volume 5
New Perspectives in Critical Data Studies
The Ambivalences of Data Power
Editors: Andreas Hepp, Juliane Jarke, Leif Kramp
This Open Access book examines the ambivalences of data power. Firstly, the ambivalences between global infrastructures and local invisibilities challenge the grand narrative of the ephemeral nature of a global data infrastructure. They make visible local working and living conditions, and the resources and arrangements required to operate and run them. Secondly, the book examines ambivalences between the state and data justice. It considers data justice in relation to state surveillance and data capitalism, and reflects on the ambivalences between an "entrepreneurial state" and a "welfare state". Thirdly, the authors discuss ambivalences of everyday practices and collective action, in which civil society groups, communities, and movements try to position the interests of people against the "big players" in the tech industry. The book includes eighteen chapters that provide new and varied perspectives on the role of data and data infrastructures in our increasingly datafied societies.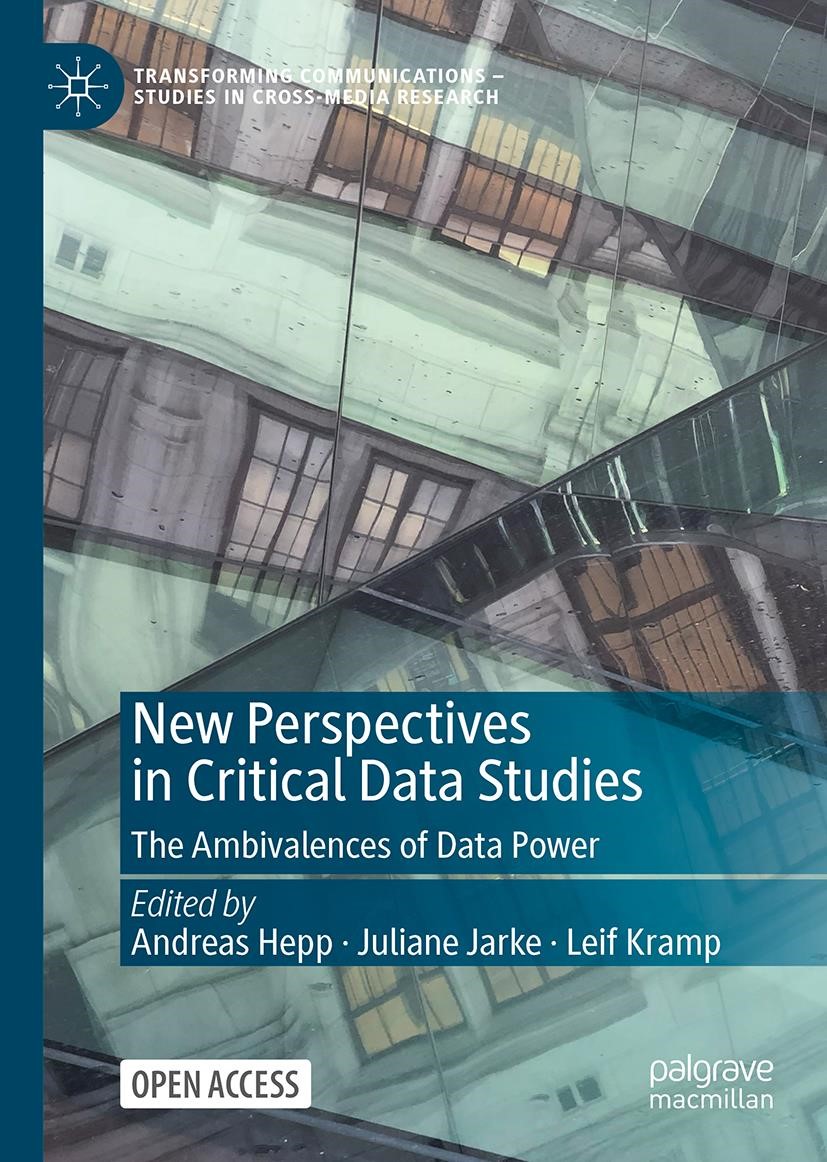 University of Bremen
ZeMKI, Centre for Media, Communication and Information Research
Linzer Str. 4 | D-28359 Bremen, Germany
Phone: +49-421-218-67601
Fax: +49-421-218-98 67601
http://www.zemki.uni-bremen.de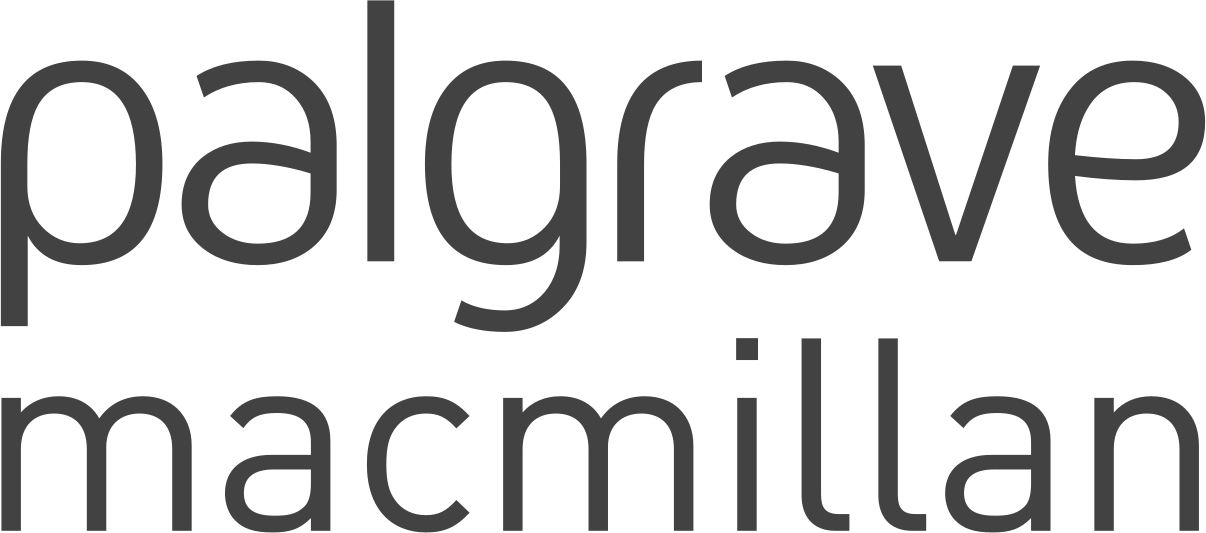 Palgrave Macmillan
4 Crinan St | London N1 9XW, United Kingdom
Phone: +44-20-78334000
Fax: +44-20-78334832
http://www.palgrave.com